Sightseeing in Boston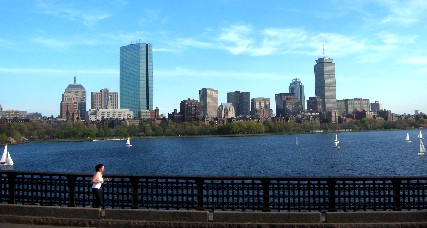 Downtown Boston is about a 45 minute drive from Salem, and a 30 minute ride on the train. Click here for more information about the Boston subway system (the " T "). Be aware it closes at 12:30AM. The closest T stops are listed below, but please note that many sites downtown are also easily within walking distance of each other. Click here for a map of Boston and Cambridge.

The Freedom Trail &nbsp (T: Park Street)

A great place to start exploring Boston. Beginning at the Commons, follow the red path for a 2.5 mile walking tour to learn about Boston and our revolutionary beginnings.

&nbsp&nbsp&nbsp
&nbsp&nbsp&nbsp

The Boston Public Garden &nbsp (T: Arlington)

A beautiful park right downtown, next to the Commons. Admire the flowers, ride a swan boat, and play at the Make Way For Ducklings statue. A romantic spot, this is where we shared our first kiss!

Isabella Stewart Gardner Museum &nbsp (T: Museum of Fine Arts)

An amazing museum in the Venetian palazzo-style mansion of a Boston Brahman. Artwork by Dante, Titian, Rembrandt... and those famous frames where the stolen Vermeers ought to be.


&nbsp&nbsp&nbsp
&nbsp&nbsp&nbsp

Faneuil Hall and Quincy Market &nbsp (T: State)

Historical landmark or touristy shopping mall? You decide! A good spot for orating against the Stamp Act, picking up some souvenirs, and watching street performers. While you're here, walk down to Christopher Columbus Park and enjoy a view of the Harbor.

Museum of Science &nbsp (T: Science Park)

Stimulate your brain at one of the best science museums in the country. Learn about optical illusions, dinosaurs, electricity, the Big Dig, and more. Also has a great planetarium, an IMAX, and fantastic laser shows.


&nbsp&nbsp&nbsp
&nbsp&nbsp&nbsp

Institute of Contemporary Art (ICA) &nbsp (T: South Station)

Take the Silver Line bus from South Station to the World Trade Center stop to get even closer to this amazing, newly redesigned museum on the waterfront. The visionary, cantilevered building matches the provocative collection of modern art inside. Both the works and the views are invigorating.

Newbury Street &nbsp (T: Arlington or Hynes)

8 blocks of the best people-watching spots in the city. Nearly 200 shops and art galleries, over 40 restaurants and outdoor cafés, roughly 100 salons, and countless well-groomed trendsetters. Stores and eateries get more upscale as you approach Arlington St.


&nbsp&nbsp&nbsp
&nbsp&nbsp&nbsp

Museum of Fine Arts &nbsp (T: MFA)

A venerable art museum, featuring artwork from all over the world and throughout history. The MFA also has the largest Monet collection outside of France. While you're in the Impressionism room, see if you can't spot a familiar painting… HINT: it's a Renoir.

The North End &nbsp (T: Haymarket)

Gelato, cappuccino, or a full meal, the outstanding Italian cuisine opportunities are bountiful here along the popular Hanover St. Then leave the main drag. This is a thriving Italian neighborhood, whose many narrow and winding streets are a joy to explore. Street fairs are part of the vibrant life here, and there is history from Paul Revere to Rose Kennedy.


&nbsp&nbsp&nbsp
&nbsp&nbsp&nbsp

Harvard Square &nbsp (T: Harvard)

See the best of Cambridge: walk around the University campus; eat at one of a myriad of restaurants; shop for clothes, books, or knick knacks; listen to some amazing street musicians; and if that's not enough, check out one of Harvard's art museums.

JFK Library &nbsp (T: JFK/UMass)

Learn about the presidency of this famous Boston native. The beautiful building was designed by I.M. Pei and houses a nice exhibit featuring many speeches and documentaries.


&nbsp&nbsp&nbsp
&nbsp&nbsp&nbsp

Mapparium &nbsp (T: Symphony)

A three-story, stained-glass globe at the Mary Baker Eddy Library depicting the world as it was in 1935. Check out the acoustics! While you're here, walk around the Christian Science Plaza and the reflecting pool, designed by I.M. Pei.

New England Aquarium &nbsp (T: Aquarium)

Entertain your inner child with a day at the Aquarium. See penguins, fish, turtles, jelly fish, seals, a four-story shark tank, and a great IMAX theater.


&nbsp&nbsp&nbsp
&nbsp&nbsp&nbsp

Arnold Arboretum &nbsp (T: Forest Hills)

A great spot for hiking and picnicking. Walk up Bussey Hill for a view of Downtown. While you are in the Jamaica Plain neighborhood, a visit to Centre St will reveal some delicious ethnic restaurants and the flagship of JP Licks, a local ice cream chain. Or venture over to the Sam Adams Brewery for a tour and free taste.

Fenway Park &nbsp (T: Kenmore)

America's oldest and smallest baseball park and home of the BEST BASEBALL TEAM EVER!!!! One hour guided tours cover all the Red Sox lore you've ever wanted to know.


&nbsp&nbsp&nbsp
&nbsp&nbsp&nbsp

Harvard School of Public Health &nbsp (T: Longwood Medical Area)

Aren't you curious to see where Caren earned her Masters? Located just one stop past the MFA (walk up Huntington or Longwood Aves), this school sits on the beautiful Harvard University Medical School campus.

Davis Square &nbsp (T: Davis)

Check out Caren and Eric's home neighborhood! There are cozy coffee shops (our fav is Diesel Cafe), classic Irish pubs (The Burren), delicious restaurants (Red Bones), and fun live music (Johnny D's).


&nbsp&nbsp&nbsp
Home | Dating Pics | Wedding Pics | Baby Pics
Grandpa's Waltz | Sightseeing | Boston | Contact Us